Food and Drink
For other items related to the cooking and storage of food, see the kitchen and domestic page.
This is a "bentoubako" (lunch-box), probably from around the turn of the 19th century (Meiji period). It stands about 21.5 cm. (8.6 inches) high, 12 cm. (4.8 inches) wide and 23 cm. (9.4 inches) deep The panel at the front (above right) slides up to remove the contents - five coral and black lacquered boxes and a lid (see below). The silvery-coloured patches on the front and back panels are part of the design. The back of the box has a little hole in it so that the boxes inside can be pushed forward and removed from the box. The biggest box would have been for rice, the smaller deep box for miso soup, and the other three for meat and/or fish, vegetables and pickles, etc. It looks rather big for an average person's lunch, so it may have been intended for special occasions (such as "hanami" - a picnic feast under the cherry blossom).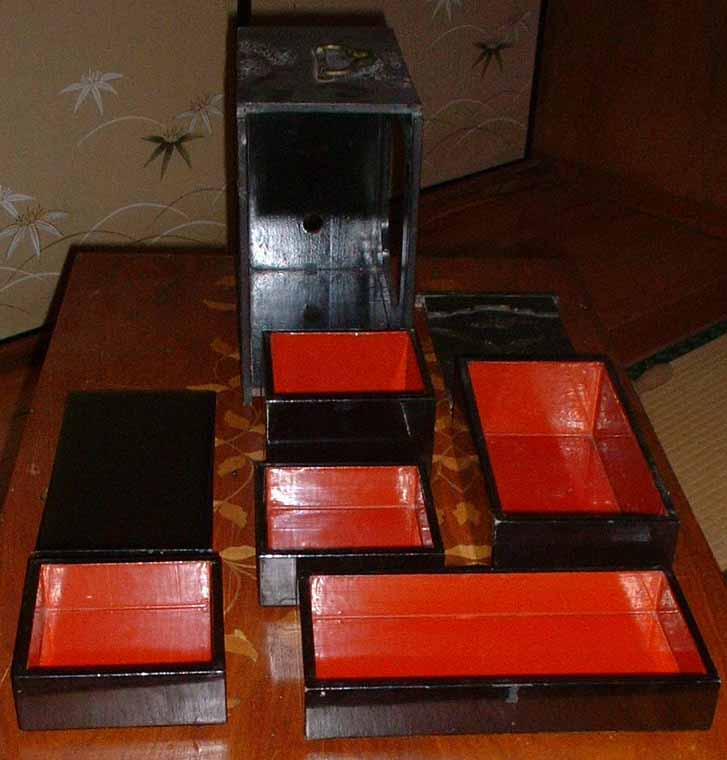 | | |
| --- | --- |
| | The box is made of wood, with a black lacquer, decorated with a floral-patterned "takamakie" (lacquer relief). The relief is chipped in places (see left) revealing a reddish-brown colour. This is "tonoko", a fine clay, that has been mixed with water and raw urushi (lacquer) to make "sabi urushi" (a kind of paste). There are different ways of applying sabi urushi. The curved edges here suggest that this has been applied fairly simply, using a thick paste applied in one coating. (My thanks to Andy Dingley, of the rec.antiques newsgroup, for this explanation.) |
This is an octagonal container for holding and pouring sake. It stands about 26 cm. (10.5 inches) high, and each of the eight side boards measures about 6 cm. (2.4 inches) by 14 cm. (5.6 inches). It has a "hiramaki-e"lacquer design on the sides. The sake was poured in through the mouth at the top of the handle, and the lid is made to fit snugly in place.

The lacquer technique involves "kirikane" (strips of gold leaf cut and inserted into the design), and is simply but elegantly done.

The modern style of drinking sake (i.e., poured from much more modestly-sized containers) came in during the 19th century. That, together with aspects of the design, suggests that this dates from the 18th century.
Sake cups, late Edo period. These cups stand just over 6.5 cm (2.6 inches) high. The bottom of the cup is actually about one third of the way up from the bottom, and apparently one could turn the cup upside down as the evening wore on to receive smaller measures. The cup on the right, below, shows the larger measure (i.e., the inside of the top of the cup), and the cup on the left shows the inside of the base.